Transitional Kindergarten/Kindergarten
Renee Marrero | Kindergarten Teacher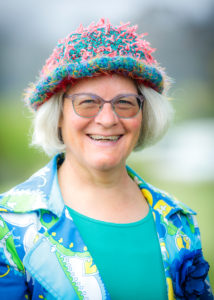 Renee Marrero has come a long way from her trip to Spain in 1982 with a bag of trail mix and limited Spanish; to an, energetic, music filled bilingual Kindergarten teacher at Fuente Nueva. After numerous trips to Spain, marriage was eminent. Renee and her husband, who is from Cadiz, Spain, are celebrating their 36th anniversary this year. Over the years, Renee has balanced the need to be a stay at home mom with being a career mom. Renee graduated from Sonoma State University in 1991 with a degree in Mexican-American Studies with an emphasis in bilingual education. She did her student teaching and also worked as an aide at the Windsor Immersion Program, which is now called Calicalmecac.
Hailing from Klamath, CA her and her family migrated back to the north coast where she worked in the Head Start Program, the Even Start family literacy program in Eureka, and then at Pacific Union School where she began a Spanish program for K-8th graders. After budget cuts, Renee found herself without a job and their family moved to the Santa Cruz area where she taught as a 1st grade Spanish immersion teacher in Watsonville.
When Renee began volunteering at Fuente Nueva eight years ago, she felt right at home, and when the Kindergarten position opened, she easily slipped right into it. Renee values family, and sees her class as a large extended family, listening with her heart every day to these little humans. They are so enlightened. Her hope is to nourish that spark of learning and curiosity that exists in each student.