Third Grade
Maria de Simón | Third Grade Teacher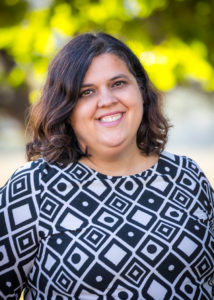 Maria was born in a small town in the center of Spain, called Talavera de la Reina; but she has lived in many cities around her country. She also lived in the United States while she studied English at California State University in Fresno. Her roots spreads along the many places that have helped her become the person, and the professional, she is now.
When she was 16 years old, she visited California for the first time and felt an immediate connection with us. That was when she decided to study here and, a few years later, applied to be part of the Visiting Teachers Program between Spain and the States.
She received her teaching degree in the University of Castilla la Mancha, in Toledo (Spain) in 2006, and has been working as a teacher since then. In Spain, she was a Music and English teacher, and has worked with three-year-olds up to sixth graders. Here at Fuente Nueva, she is the third grade-teacher. She likes to use technology and music in her classes and considers that the learning process should be a positive experience for everyone; for which she tries to find engaging activities to keep her students motivated.