English Language Arts/Library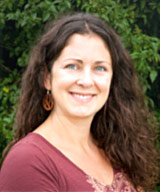 Angela Kidd | English Language Arts Teacher
Angela received her B.A. in education with a concentration in psychology from Kutztown University in Pennsylvania. During her senior year, she was accepted into the Student Teaching Abroad Program, where she taught 5th grade in London, England. After teaching and learning in London's multicultural climate, she sought out career opportunities and left teaching in her Pennsylvania hometown.
In 2002 she was hired to teach a 5th grade classroom in Monterey, California. She and her husband moved across the country to start new careers on the west coast. While teaching 5th grade in Monterey, she also attended California State University at Monterey where she received an M.A. degree in education. Highlights of her three years in the Monterey School District include the following: starting two school garden programs, working as the readers' and writers' workshop coach, writing a grant for art education in the school district, and completing the 2004 Legacy of Freedom Institute for social studies teachers.
Angela and her husband moved to Humboldt County in 2005. Angela worked as a substitute for the first few months until she found the perfect fit in the Fuente Nueva community. The school's multicultural, socially-just, environmentally-conscious, and artistic cornerstones were very close to her own personal beliefs. She began teaching full-time language arts and social studies to K-3 grades. After the birth of her son in 2006, she started working part-time as the language arts and social studies teacher for the upper grades. Currently Maestra Angela teaches language arts to the second through fifth grade students.  Her instruction focuses on a readers and writers workshop model that incorporates many genres of children's literature to teach comprehension strategies and writing techniques. Angela enjoys the opportunity to weave in social studies and science research in her curriculum; while emphasizing social justice as well as multicultural viewpoints.