Fifth Grade
Naomi Grogan Hurlich | Fifth Grade Teacher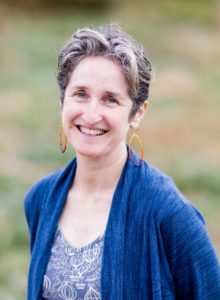 Naomi Grogan-Hurlich is thrilled to be part of the Fuente Nueva community as the 5th grade teacher. She is enjoying her role in the tight-knit group of educators and learners in a Spanish immersion environment, where international mindedness, social responsibility, and teaching tolerance are in the forefront.
Naomi was born and raised in Seattle, Washington and has also lived in Spain, Germany, and New Zealand.
Naomi received a BA in Spanish Literature and a Masters in Bilingual Education, both from UC Santa Cruz. Living in California, she anticipated she would start her career teaching at a Spanish-immersion school, but she wound up finding a position as a German-immersion teacher in San Diego; where she also had the opportunity to help develop the Spanish-as-a-foreign language program. Naomi began teaching in 1st grade, then jumped to 3rd and has the majority of her teaching in 5th grade.
Naomi enjoys cycling, playing the guitar at home and with her students, hiking, gardening, spending time with family, eating her husband's home-baked bread, practicing yoga, and if there is time left over, dancing swing and salsa.