Fifth Grade
Cat Wolmar Budesa | Fifth Grade Teacher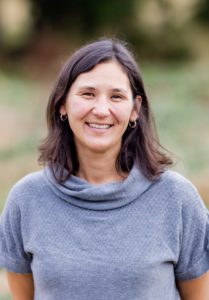 Catarina Wolmar Budesa is honored to be a part of the Fuente community.  She feels like she "found her people" by joining a school that centers social responsibility, the arts, community and, of course, Spanish!  Walking through the outdoor hallways in the morning and hearing "Buenos días" repeated so many times reminds her of being in Central America.  Catarina is proud to be from New York but has felt much more at home on the West Coast for the last 20 years.
Catarina studied at Tufts University where she received her BA in History and Spanish Literature and an MA in Teaching.  Upon completing her teaching program she felt she needed more "life experience" before working in a classroom. She spent several years with a Seattle-based non-profit that led a Leadership program for high schoolers in Guatemala.  She became a certified yoga teacher and taught full-time with classes that included yoga for adolescent girls.  When she became a mother, she welcomed the opportunity to move back into public school education.  Prior to teaching at Fuente, Catarina taught in a traditional 2nd/3rd combined classroom and more taught students in Independent Study programs through multiple charter schools. This is her second year at Fuente.
In free time, you'll find Cat with her husband and two children on bike rides and hikes in the beautiful surroundings she calls home.  When fortunate enough to, you'll find them skiing, snowboarding and swimming (not in the same season!!) in her former, equally beautiful, home of Mt. Shasta.