Fourth Grade
Catalina León | Fourth Grade Spanish Teacher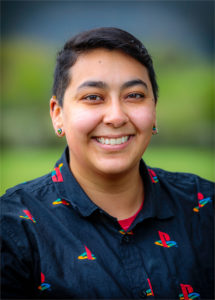 Maestra Catalina León attended a bilingual Spanish immersion school, called Cali Calmecác Charter School, in her hometown of Windsor, CA from kindergarten to eighth grade. Her primary school experience was very similar to Fuente Nueva, so she understands the classroom from the perspective of the students. This allows for Catalina to connect with students at all levels, both in and out of the classroom. She grew up in a Spanish speaking home environment, took AP Spanish courses at Windsor High School, and earned her Seal of Biliteracy in her senior year. She has a deep understanding of the Spanish language, which allows for her to teach it effectively in the immersion classroom. Catalina graduated from Humboldt State University in 2015 with a B.S. degree in Environmental Protection and Management, with an emphasis in Environmental Education and Interpretation. With this degree, she brings outdoor education into the classroom and informs the students of the impacts they can have on environmental sustainability. This gives the students a sense of how they are an essential part of the community.
Catalina has been working at Fuente Nueva for seven years. She began as an after-care aide in 2012 and has since spent time as a classroom aide and substitute teacher. She is a fourth grade teacher and earned her Multi-Subject teaching credential through CalState TEACH. Catalina believes that every learner has unique needs. With an open-mind and a wide array of tools, Catalina meets the diverse needs of her students; which leads to educational and personal success. She ensures her classroom is a safe space where the kids have the freedom to learn, while feeling comfortable with themselves and those around them. Catalina strives to fulfill her role as an educator by inspiring the students to learn about the wonders of education, and by being passionate, enthusiastic, and devoted both in and outside of the classroom.
Anna Gaines | Forth Grade English Teacher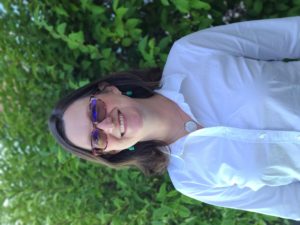 Maestra Anna Gaines has a BA in music and a teaching credential from HSU. A couple of years ago, she earned her MS in Organizational Leadership from CU Boulder. Over the past twenty years she has worked in education at all levels, but her heart is in the elementary school classroom.
Anna lives near Freshwater with her husband and two boys (one in fifth grade and one in sixth). She and her kids were active in Boys Scouts for many years and she acted as Den Leader for her younger son. Before COVID, she directed a children's choir at the Humboldt Unitarian Universalist Fellowship.
When she's not working or shuttling boys from one activity to another, she is in her garden. She is a very happy lady when she's in the dirt, listening to the birds and the wind in the trees.