Meet the Pre-Kindergarten Teacher
Martha Manzo-Adame | Pre-Kindergarten Teacher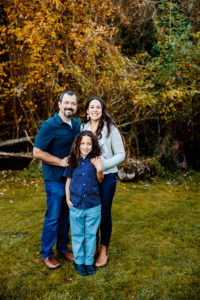 Martha Manzo-Adame was born in San Diego, California. At the age of nine her family
moved to a northern part of the state where her family embarked in what would be 28
years of owning and running a restaurant. Martha's strong work ethic began at the age
of twelve; working alongside her family she learned the many aspects of restaurant life.
As a young adult, Martha pursued an education in early childhood. It was during that
time her curiosity for the science behind the transformation humans go through at such
a young age became stronger. Martha dove right into her studies, earned a degree in
Early Childhood Education (ECE) and has been captivated ever since.
While continuing to work in ECE, Martha was longing to reconnect with her native
Language, Spanish. It was then she decided to enroll at Cal Poly Humboldt to study
Spanish Education. While there, Martha earned a B.A. Her time studying the language
and the community it brought together made her heart incredibly happy.
Along the way, Martha was introduced to the Montessori philosophy. As part of an ECE
class she was placed in a Montessori classroom to observe. These observations made
a BIG impact on how Martha would move forward in her work. Martha worked in a
Montessori school for seven years. During that time, she enrolled in an Association
Montessori Internationale (AMI) program in Portland, Oregon and fell further in love with
early childhood education. After three rigorous summers, Martha excitedly earned an
AMI diploma at the primary level.
It was several years later that Martha started her journey at Fuente Nueva Charter
School. After her son started preschool, Martha wanted to dip her toes back into
education. She eased her way by taking on aide roles. During her time at Fuente, she
has been placed in Kindergarten, first grade, and as of last year, second grade. Getting
to experience the different grade levels has given valuable insight to her practice. This
school year, Martha has been given the opportunity she has been dreaming of. Martha
will be Fuente's Pre-K teacher. Her love of early childhood education and the Spanish
language have come together in a space that offers community, support, and love!
Pictured- Gabriel (Martha's partner), Milo (Martha's son), and Martha