Fuente Nueva Lunch Program Restarts 12/1/2020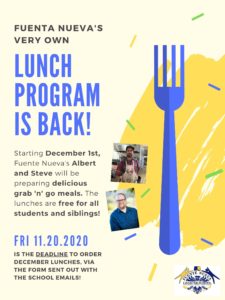 Fuente Nueva's very own Lunch Program is back – order December lunches by Friday! 
Fuente Nueva is happy to announce that the school is bringing back Fuente Nueva's very own lunch program – starting December 1st. This means that nutritious and delicious grab and go lunches will be prepared by Fuente Nueva's kitchen staff team Albert and Steve.
(The lunches are no longer prepared by the Arcata School District).
The grab and go lunches will still be FREE for all students and their siblings and are handed out every school day at Fuente Nueva. More info on pick up times to come.
PLEASE OBSERVE: This month families will NOT be able to order lunches last minute. We are asking you to plan ahead and to fill out the form at the latest this Friday November 20, 2020. Find the form here.
(Organic fruit, organic salad, and milk are always included in the Fuente Nueva lunches. The lunch bags also include breakfast for the next morning.)
El programa de almuerzo propio de Fuente Nueva está de vuelta – ¡pide almuerzos de diciembre a más tardar el viernes!
Fuente Nueva se complace en anunciar que la escuela de este mes está trayendo de vuelta el programa de almuerzo propio de Fuente Nueva. Esto significa que los almuerzos nutritivos y deliciosos serán preparados por el equipo de cocina de Fuente Nueva Albert y Steve.
(Los almuerzos ya no son preparados por el distrito escolar de Arcata)
Los almuerzos para llevar todavía son GRATUITOS para todos los estudiantes y sus hermanos/hermanas y se entregan todos los días escolares en Fuente Nueva. Más información sobre los horarios de recogida llegará pronto.
POR FAVOR OBSERVE: Este mes las familias NO podrán pedir almuerzos de última hora. Le pedimos que planifique con anticipación y rellene el formulario a más tardar el viernes 20 de noviembre de 2020. Encuentra el formulario aquí.
(Ensalada orgánica, fruta orgánica y leche siempre están incluidas en los almuerzos. Las bolsas de almuerzo también incluyen un desayuno para la mañana siguiente.)
Más información en 
el menú adjunto.
 Pide sus almuerzos 
aquí.
FNCS Plan for On-Campus Instruction / FNCS Plan para la instrucción en el campus
Starting December 1st 2020 Fuente Nueva Charter School will offer a Hybrid Learning Model. Families can choose between full distance learning, or on-campus learning 2 days a week for their students.
Read more about the plan by clicking on the link below:
FNCS Plan for On Campus Instruction
****
A partir del 1 de diciembre de 2020 Fuente Nueva Charter School ofrecerá un Modelo de aprendizaje híbrido. Las familias pueden elegir entre el aprendizaje a distancia o el aprendizaje en el campus 2 días a la semana para sus estudiantes.
Lea más sobre el plan haciendo clic en el siguiente enlace:
FNCS Plan para la instrucción en el campus
We are looking for a Classroom Aide / Estamos buscando un asistente de aula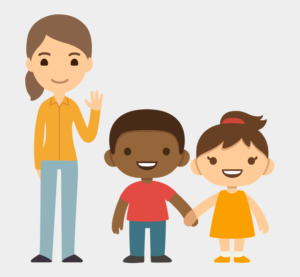 Fuente Nueva Charter School is hiring a new Classroom Instructional Aide.
Proficiency in Spanish is preferred but not necessary, experience working in classroom desired.
Are you or someone you know the right person for the job?
****
Fuente Nueva Charter School está contratando a un nuevo Asistente instructivo de aula.
Se prefiere la competencia en español, pero no es necesario, se desea experiencia trabajando en el aula.
¿Es usted o alguien que conoce la persona adecuada para el trabajo?
A Pan de Muerto Virtual Workshop / Un taller virtual de Pan de Muerto
Amigos de Fuente Nueva presents…
A Pan de Muerto Virtual Workshop with Los Bagels Dennis Rael!
Learn‌ ‌to‌ ‌make‌ ‌traditional‌ ‌Pan‌ ‌de‌ ‌Muerto‌ ‌(dead‌ ‌bread)‌ ‌live‌ ‌on‌ ‌Zoom, Nov 1st at 3pm!‌ Register yourself, friends and family!
The package costs $20, and‌ ‌includes‌ ‌dry‌ ‌ingredients‌ ‌for‌ one dozen loaves,‌ ‌recipe‌ ‌card,‌ ‌Zoom‌ ‌link,‌ ‌&‌ ‌a‌ ‌special‌ ‌Dia‌ ‌de‌ ‌los‌ Muertos‌ ‌family‌ ‌craft‌ ‌project!
Register here, or by returning the form that was sent out to families in the plastic bins on Friday.
***
Amigos de Fuente Nueva presenta…
Un taller virtual de Pan de Muerto con el dueño de la panadería Los Bagels… ¡Dennis Rael!
¡Aprenda a hacer el Pan de Muerto tradicional en vivo en Zoom, 1 de noviembre a las 3pm! Amigos y familiares también pueden participar si se registran en línea.
El paquete cuesta 20 dólares y incluye ingredientes secos para una docena de panes, una tarjeta con la receta, un enlace de Zoom y un proyecto especial de artesanía del Día de los Muertos para la familia.
Regístrese aquí, o devolviendo el formulario que se envió a las familias en los contenedores de plástico el viernes.
Join the student newspaper El Fénix! / Unirse al periódico estudiantil El Fénix
Did you know that Fuente Nueva students make their very own newspaper – El Fénix? All 3rd-5th graders are welcome to join!
The editorial staff meet every Wednesday on Zoom, and the next meeting is 10/14 at 1:00pm.
Find the Zoom link and the link to El Fénix's website (where the first assignment is posted) in Clever!
¿Sabía que los estudiantes de Fuente Nueva hacen su propio periódico, El Fénix? ¡Todos los estudiantes de 3o a 5o grado pueden unirse!
El personal editorial se reúne todos los miércoles en Zoom, y la próxima reunión es 14 de octubre a la 1:00pm.
Encuentra el enlace Zoom y el enlace al sitio web de El Fénix (donde se publica la primera asignación) en Clever.
AFN launches Clean Air Campaign / Una campaña de aire limpio
Amigos de Fuente Nueva is launching a Clean Air Campaign to help prepare for the return of students to campus.
Help AFN raise $10,000 to fund the purchase of nine state-of-the-art indoor air purifier systems, and the construction of five more puddle-free outdoor classroom spaces.
Please reach out to friends and relatives near or far who might be inspired to help support this effort. Donations can be made via cash, check, or credit card via PayPal (no PayPal account required), or on our website www.amigosAFN.org. Checks can be made out to Amigos de Fuente Nueva, or AFN, and mailed to AFN, 1730 Janes Rd., Arcata, CA 95521
***
Amigos de Fuente Nueva está lanzando una campaña de aire limpio para ayudar a prepararse para el regreso de los estudiantes al campus.
Ayuda a AFN a recaudar $10,000 para financiar la compra de nueve sistemas purificadores de aire interior de última generación, y la construcción de cinco espacios de aula al aire libre más. Consulte el folleto adjunto para obtener más información.
Por favor, contacte con amigos y familiares cercanos o lejanos que podrían ser inspirados para ayudar a apoyar este esfuerzo. Las donaciones pueden ser hechas en efectivo, cheque o tarjeta de crédito a través de PayPal (no se requiere cuenta PayPal), o en nuestro sitio web www.amigosAFN.org. Los cheques pueden ser hechos a Amigos de Fuente Nueva, o AFN, Y enviado a AFN, 1730 Janes Rd., Arcata, CA 95521
Free lunches for all students / Almuerzos gratis para todos los estudiantes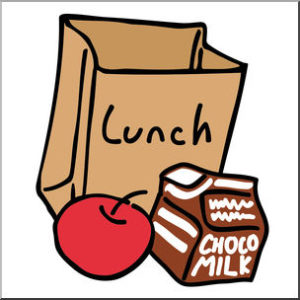 Fuente Nueva is now one of the locations for free lunches in the Arcata School District. This means that ALL students can get free meals every school day!
The only thing you have to do to order lunch is email or call the office in advance – at the latest by 8:30am the day you would like a meal for your student(s). You can also use the lunch order form that we send out with the weekly school emails.
The office number is (707) 822-3348 and our email is info@fuentenueva.org
***
Fuente Nueva ahora es uno de los lugares para almuerzos gratis en el distrito escolar de Arcata. Esto significa que TODOS los estudiantes pueden recibir almuerzos gratis todos los días escolares.
Lo único que tiene que hacer para pedir el almuerzo es enviar un correo electrónico o llamar a la oficina con antelación – a más tardar a las 8:30am del día en que le gustaría almuerzo para su estudiante. También puede usar el formulario de pedido de almuerzo que enviamos con los correos electrónicos semanales de la escuela.
El número de oficina es (707) 822-3348 y nuestro correo electrónico es info@fuentenueva.org
Canned Food Drive / Recolección de latas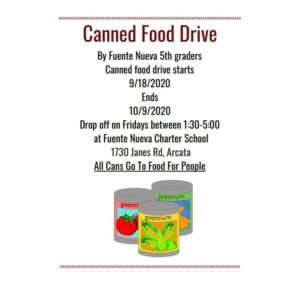 Fuente Nueva fifth graders are organizing a canned food drive for Food for People.
Please support their cause by bringing non-perishable food during the materials drop off on Fridays. The drive runs from September 18th to October 9th.
Unos estudiantes del quinto grado están organizando una recolección de latas para Food for People.
Por favor, apoye su causa trayendo alimentos no perecederos durante la recogida y entrega de materiales los viernes. La recolección va del 18 de septiembre al 9 de octubre.
Virtual Cross-Country this fall
This fall, there will be no Running Club at Fuente Nueva. But there is still hope for those students who want to take part in cross-country runs!
Humboldt Redwoods Running Association for Youth is arranging Virtual Runs across the county.
Este otoño, no habrá Equipo de correr en Fuente Nueva. ¡Pero todavía hay esperanza para aquellos estudiantes que quieren participar en carreras a campo traviesa!
Humboldt Redwoods Running Association for Youth organizará carreras virtuales en todo el condado.
Back to School Night
Join us TONIGHT Thursday, August 27 for a chance to learn more about what is happening in your students distance learning classroom! Check your email for the link to the zoom invite. The evening begins promptly at 6pm.
Looking forward to seeing you there!