First Grade
Brenda Covarrubias | First Grade Teacher
To tell you a little bit about myself before coming to Arcata… I was born in Mexico and when I was a little girl we moved to San Francisco California, where I grew up and went to a bilingual school to lear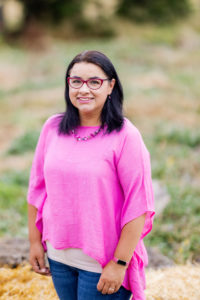 n English. When I got to San Francisco, I was so intrigued to discover that there were so many people from all over the world all in one city and that there were so many different ways to speak Spanish. 
So, it was then that I began to enjoy learning about other cultures. I also love to read short stories and legends. I enjoy traveling and cooking, especially collecting recipes and the stories behind them. I also love dogs, and I enjoy taking walks in the forest while looking for birds. I like to watch the sunset over the ocean, and of course, I love to teach. 
When I became a teacher I had the opportunity of working as a first-grade teacher in the same neighborhood I went to school in, in San Francisco. It was very fun because we would visit the same places my teacher took me to as a child. Our favorite outing was our monthly walking trip to the public library, followed by a picnic at the park, and a soccer match before heading back to school. It was a beautiful experience of learning, exploring, and getting some exercise. 
After teaching for many years in San Francisco, I decided I wanted to learn about life in different places. So I had an opportunity to teach elementary students in other Spanish-speaking countries. In Costa Rica, I worked in a Cloud Forest. There the student taught me to appreciate and take care of nature, to pick my snack directly from the trees, and learn to like all kinds of creepy crawlies, well except for scorpions! In Mexico I got to teach 4th grade in Guadalajara, there I got to learn about my ancestor's traditions, including eating very spicy "tortas ahogadas" and singing along to old mariachi songs. Most recently, I taught in Chile, where I lived for over 9 years, first in the Atacama Desert by the coast and then along the Bio Bio river in the city of Concepcion. There my students taught me how to celebrate "El 18 de Septiembre" with food, games, and empanadas (it is independence day, yet it is a month-long celebration that everyone enjoys even more than Christmas!). My students also taught me that any earthquake below 6.0 is nothing to be worried about as they happen all the time and cause no harm. My husband Francisco, however, still gets nervous with earthquakes, even the little ones even though he is from Chile! He will be coming to Arcata too, except after spending his last 18 de Septiembre celebrations in Chile. By the way, he loves to talk a lot in Spanish, so you will have two of us to practice within the community. 
In regards to education, I believe we all form a very important part of each child's life, the family, the teachers, and all the classmates. For that reason, I know how important it is to work together as a community. That way the students will always have a type of support that is strong, loving, and
consistent. So during the months that we work together, there will be plenty of opportunities for us to learn along with our families. I also believe that in a classroom setting, everyone has their own unique experiences, so as we share our experiences we can learn from and appreciate each other. Thus, it is very likely that the children, as well as teachers, will share many stories that will help us to understand the world a little better. 
This will be my 26th year of teaching, and as more time goes by the more I enjoy it! I originally studies Anthropology and Latin American Studies at UC Santa Cruz where I got my BA. Once I graduated I joined Teach for America, where I discovered my love for teaching in a Dominican community in New York City while teaching kindergarten. Afterward, I returned to San Francisco to get my Elementary School BCLAD (Bilingual, Crosscultural, Language and Academic Development) Teaching Credential, followed by a Master's in Teaching, with a focus on Environmental Global Literacy, both from New College of California. Nonetheless, I realize that in life, one never stops learning, as every day I learn something new that I can pass on to others.