Second Grade
Angela Rivera | Second Grade Teacher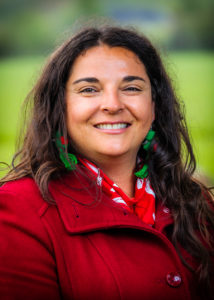 Angela Rivera joined our Fuente Nueva family in 2010 and is currently teaching 2nd grade. Maestra Rivera was born in Guatemala and lived there until she was 11 years old, at which point her family moved to her mother's hometown: Fortuna, CA.  Angie attended Fortuna Middle School and graduated from Fortuna Union High School. She traveled all over California attending different colleges and universities before moving back to Humboldt County to attend Humboldt State University. In 2007 she received her undergraduate degree in Liberal Studies and went on to receive her teaching credential in 2008.
Before teaching at Fuente Nueva, Maestra Rivera had been working at Alice Birney Elementary School for five years. At Alice Birney, Angie provided academic support and instruction to students in grades kindergarten through sixth grade who speak a language other than English at home while also working closely with their families in order to bridge home and school contact.
Maestra Rivera consciously establishes rapport with her students to build their self-worth. She individualizes and diversifies her teaching techniques so that each student's learning style can experience success in her classroom. Her priority is to create a student-centered atmosphere.