Season of Generosity
This time of year many of us are inspired to give to others in need. From Giving Tuesday to the Can Food Drive, there are many ways that families can get involved. I am always moved to see that some of the families at our school who are struggling are often also among those who are giving to others. We often talk about this as the season of generosity, but really we must ask ourselves, is this not a trait we wish to practice all year long? During character ed lessons with the students, we often explore the personal benefits gained when we are generous. The kids have turned the concept on its head and named that they did something nice for someone else because it felt so good for them to give. Now that is really make use of the phrase, "what you put out into the world comes back to you"!  So this season, I hope together we can experience the joy of giving to others through more than just material things and also share the gift of smiles, a helping hand and a shoulder to lean on. I can't think of any reason to not continue that all year long!
Happy Holidays to you and your loved ones.
New Playgrounds are Open!
Thanks to the efforts of many parents we are excited to have both of our new playgrounds open. Behind the TK/Kindergarten room we were lucky to inherit a used structure from HSU. With some investments by the school and a lot of hard work by parents, it is a perfect addition for our youngest students. The main playground also received an upgrade which includes a large climbing structure and a continuous play system that has various components linked together. Both of these play areas already are impacting the students' physical activity. We are deeply grateful for funds donated by our Amigos de Fuente Nueva and for the hard work of many parents to make this playground upgrade a reality.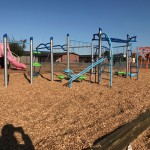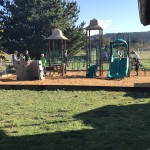 Stronger Together
While schools do not take political sides, we are impacted by the political climate in our country.  Our students are working out what they hear and see from their families, in the media, and their community. Students express their thoughts and ideas at school, trying to make sense of their world and in turn create our community climate.
At Fuente Nueva, part of our core mission and values is to promote world citizenship. What does this look like? It can be as simple as showing compassion and empathy for those who have different ideas than us; and in the older grades, it can be as complex as taking action for what the students believe in. Getting curious, sharing thoughts, and finding common ground is something that we model for our students.
At Fuente Nueva, we are seeing this moment in history as a teachable moment. The adult discourse that has been heard by our students can lead to negative behaviors as students try on what society is modeling for them. Sometimes this can be ugly and scary for all of us involved. How we respond as a community can be an example for the world we live in.
Here in school, we are committed to supporting each student in the way that they need most. We will show compassion for those who make poor choices and support them to learn a new way. We will have firm and clear boundaries that enable our students to practice civility while creating a safe community for all of its members. At Fuente Nueva, we are deeply committed to celebrating the diversity that exists here in our school and far beyond.
As parents of today's youth, you play a critical role in how we move forward. Please, talk with your kids. Find out what they are thinking and what they know. It can sometimes be surprising the ideas that the kids are sorting out in their minds and hearts. Share your own thoughts to help them process the world around them. If something comes up for your student at home, please don't hesitate to bring it to our; attention and we will do the same by including parents when situations arise at school.
It is with pride that I look at the school we have built; founded on the concept that seeing the world through multiple languages and cultures broadens us and prepares us for world citizenship. Our students are taught to celebrate each other's success and learn together when there are challenges. Now, as we are witnessing the disparity that exists in our nation, a school such as Fuente Nueva takes on a whole new meaning and increased purpose.
As a school community we can be united in support of our students as they face the challenges and opportunities that lie ahead. It is a true honor to walk with you on this journey. My door is open and I would love to continue the conversation. Truly, as always, we are stronger together.
Progress for a Safer Route to School!
Yesterday, the Humboldt County Board of Supervisors approved an ordinance that reduces the speed limit on Foster Avenue to 25mph. In five weeks we will see new signage on Foster Avenue. We are sending a big thank you to our county staff and the board for making this happen so quickly.
It started with a close call for a family en route to Fuente Nueva. That parent and I partnered up and requested the county staff to consider reducing the speed limit. County staff moved quickly and as a result have been able to take the first steps towards providing a truly safe route to school for our students. Through a partnership with the City of Arcata, the County of Humboldt, the County-wide Safe Routes to School Task Force and parents of both Fuente Nueva Charter and Mad River Montessori our next steps include: additional signage on Janes Road, the extension of our School Zone to include Foster Avenue, and the reduction of speed limit for the entire zone to 15mph. Long term plans also include a path along the side of Foster Avenue.
Check us out on the news!
http://www.krcrtv.com/north-coast-news/speed-limit-near-school-reduced-by-30mph/131678184
The Great ShakeOut
This Thursday our school will participate in the national Great ShakeOut. Millions of people around the world will be practicing earthquake readiness by simulating their response to an earthquake. Students will drop, cover, and hold on during the simulated shaking. Afterwards, we evacuate the buildings and meet on the blacktop.
As a school we continuously practice and prepare for a natural disaster. At home, as a mother, disaster preparedness is often at the bottom of a long list of "to-dos". We encourage families to take this opportunity to evaluate your own preparedness. The link below provides a variety of resources for families.
Want to join me in updating our school's Safety Plan? Contact Directora Beth at bwylie@fuentenueva.org.
http://www.shakeout.org/individuals/
2015-2016 End of Year Happenings
Hope you can join us to celebrate the accomplishments of our school community.
Readers Theatre – Peter Pan 
Thursday June 9 @ 6:15pm (students arrive by 6)
Bailando debajo de las estrellas
Friday June 10, 7-9pm in room 7 & 8
Graduation and Continuation Ceremony 
Wednesday June 15 @ 10:15am  w/ dismissal at 1pm
Last DAY! 
Thursday June 16, 1pm dismissal
The Superior Social Skills of Bilinguals
Enrollment Information Night – March 10 6pm
Join us to learn more about our program and how to enroll your child. Presentation will be under and hour with time for questions and visiting with all of our classroom teachers. Hope to see you there!
March 10, 2016
6pm-7:30pm 
1730 Janes Road, Arcata CA 95521 – Kindergarten Room 
Important Notice Regarding Protection of Student Information and Records
Dear Parents, 
The Family Educational Rights and Privacy Act (FERPA) sets out the requirements for the protection of privacy of parents and students, including privacy of student records. Generally, parents and/or students must provide written consent before an educational agency may disclose PII (Personally Identifiable Information). However, there are exceptions to this general rule. Specifically, an educational agency must provide PII when ordered by a court, which the California Dept. of Education has been ordered to do in recent litigation.
In the judgment of the Morgan Hill Case, the names, Social Security numbers, addresses and mental and physical assessments of every student attending public school in California since January 1, 2008 must be released by CDE and made available to a court appointed data analyst so it can be reviewed.  For more information see:
http://www.cde.ca.gov/re/di/ws/morganhillcase.asp
Parents/guardians and former students 18-years-old or older may complete and mail-in an opt-out form to prevent the release of their student data. This document must be completed and submitted by April 1, 2016.
If you do not want your student's personal information (names, Social Security numbers, addresses and mental and physical assessments) released to the plaintiffs in the Morgan Hill Case, you MUST complete the Notice and Objection Form, and ensure that it is received by April 1, 2016. It must be mailed via the U.S. Postal Service. Click on the above link to be guided to the forms and directions.
While submitting a form will not guarantee your student's information will not be released, it is the only means for expressing an objection to the current order. The court also issues a Protective Order, which prohibits the plaintiff from disclosing any confidential information to anyone other than the parties, plaintiff's attorneys and/or consultants, and the court. Thus, in no event is the information permitted to be disclosed to the public generally or used for any reason outside of this lawsuit, and all information must be retained by CDE or destroyed at the conclusion of the lawsuit.
Note that Fuente Nueva and the Arcata School District is not a party to the litigation and is not required to disclose any student data. If you have any questions, please contact CDE directly at (916) 319-0800.
All the Best,
Beth
Open Enrollment for SY 2016-17 March 1 – April 18
OPEN ENROLLMENT for SCHOOL YEAR 2016-17
March 1 – April 18, 2016
Parent Enrollment Information Night
Thursday, March 10
6:00 – 7:30 p.m.
1730 Janes Road, Arcata | Rm. 9
Limited child-care is offered. Please call to reserve your spot.
Classroom visits by appointment: 822-3348
For further enrollment information, please visit our Enrollment Process section under Parent Resources.