Fuente Nueva Lunch Program Restarts 12/1/2020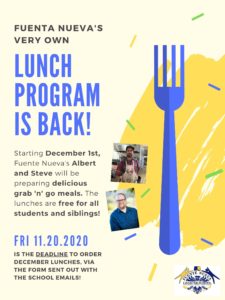 Fuente Nueva's very own Lunch Program is back – order December lunches by Friday! 
Fuente Nueva is happy to announce that the school is bringing back Fuente Nueva's very own lunch program – starting December 1st. This means that nutritious and delicious grab and go lunches will be prepared by Fuente Nueva's kitchen staff team Albert and Steve.
(The lunches are no longer prepared by the Arcata School District).
The grab and go lunches will still be FREE for all students and their siblings and are handed out every school day at Fuente Nueva. More info on pick up times to come.
PLEASE OBSERVE: This month families will NOT be able to order lunches last minute. We are asking you to plan ahead and to fill out the form at the latest this Friday November 20, 2020. Find the form here.
(Organic fruit, organic salad, and milk are always included in the Fuente Nueva lunches. The lunch bags also include breakfast for the next morning.)
El programa de almuerzo propio de Fuente Nueva está de vuelta – ¡pide almuerzos de diciembre a más tardar el viernes!
Fuente Nueva se complace en anunciar que la escuela de este mes está trayendo de vuelta el programa de almuerzo propio de Fuente Nueva. Esto significa que los almuerzos nutritivos y deliciosos serán preparados por el equipo de cocina de Fuente Nueva Albert y Steve.
(Los almuerzos ya no son preparados por el distrito escolar de Arcata)
Los almuerzos para llevar todavía son GRATUITOS para todos los estudiantes y sus hermanos/hermanas y se entregan todos los días escolares en Fuente Nueva. Más información sobre los horarios de recogida llegará pronto.
POR FAVOR OBSERVE: Este mes las familias NO podrán pedir almuerzos de última hora. Le pedimos que planifique con anticipación y rellene el formulario a más tardar el viernes 20 de noviembre de 2020. Encuentra el formulario aquí.
(Ensalada orgánica, fruta orgánica y leche siempre están incluidas en los almuerzos. Las bolsas de almuerzo también incluyen un desayuno para la mañana siguiente.)
Más información en 
el menú adjunto.
 Pide sus almuerzos 
aquí.