Canned Food Drive / Recolección de latas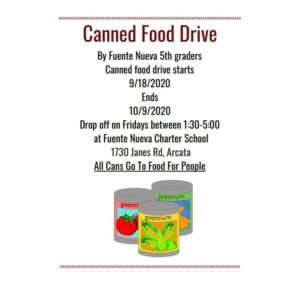 Fuente Nueva fifth graders are organizing a canned food drive for Food for People.
Please support their cause by bringing non-perishable food during the materials drop off on Fridays. The drive runs from September 18th to October 9th.
Unos estudiantes del quinto grado están organizando una recolección de latas para Food for People.
Por favor, apoye su causa trayendo alimentos no perecederos durante la recogida y entrega de materiales los viernes. La recolección va del 18 de septiembre al 9 de octubre.