Come to our Enrollment Information Night!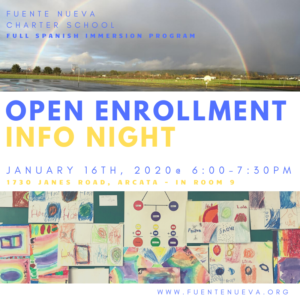 Are you interested in Fuente Nueva Charter School for the school year 2020-2021? Come learn more about our school and the open enrollment process on the Enrollment Information Night, this Thursday, January 16th! In Room 9, 6:00pm-7:30pm.
Childcare is available, please sign up beforehand by calling the office: (707) 822-3348.
You can also read more about our enrollment process here.