The mission of Maple Creek Elementary School District is to provide an exemplary educational program for the students of Maple Creek School.  The high teacher-to-student ratio provides personalized instruction to foster the development of each student's talents, academic performance and social/emotional growth.  We provide a solid foundation for our students to enter high school, college and chosen career paths.
Emphasis on promotion of literacy in language arts, mathematics and technology skills:
High expectations and an optimal learning environment produce proficient and advanced academic skills;
Students, teachers and parents cooperate in a nurturing and interactive educational setting that enhances the learning experience;
Global literacy and digital citizenship are promoted with the use of digital tablets for the students and professional development for the staff to remain updated on innovative technologies.
Emphasis on communication skills:
Classroom environment promotes the development of personal responsibility, positive social skills, effective self-management strategies, tolerance and respect for both self and others;
Collaborative projects provide opportunities to think critically, be creative, solve problems and work as a community;
An outstanding visual and performance arts program provides a stage for students to demonstrate these skills.
Maple Creek School is currently enrolling students.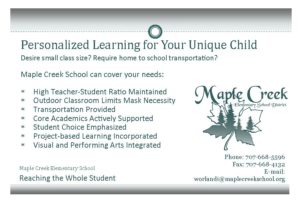 Interdistrict Transfer Policy Information

More information can be found on the HCOE website.
Current Board Agendas:
Maple Creek School COVID-19 Plans:
If you encounter a problem with this site, please e-mail our webmaster at commcenter@humboldt.k12.ca.us.